AUER Collapsible Pallet Bins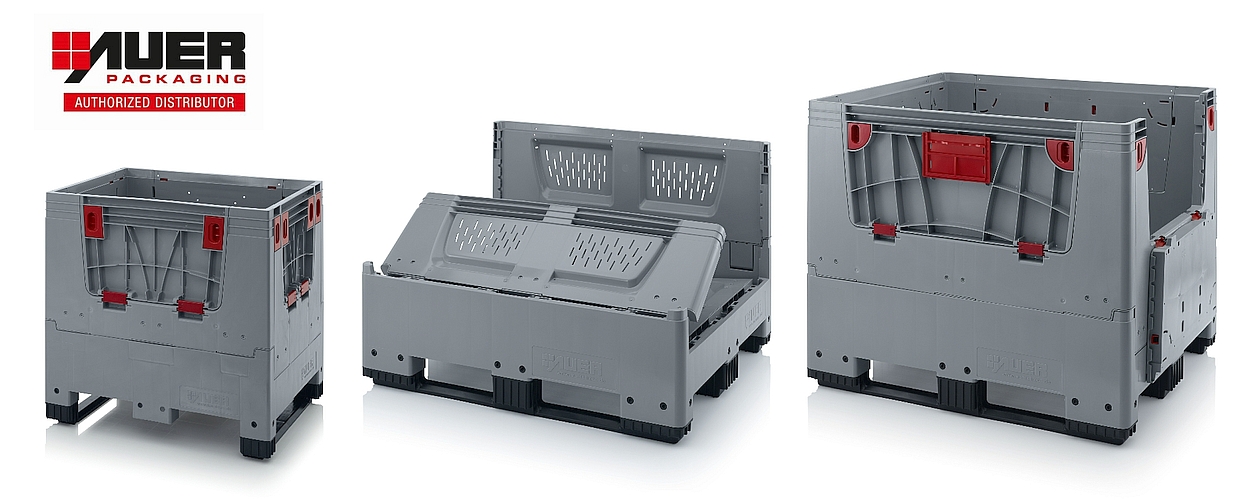 AUER is a innovative manufacturer located in Germany that is centred on supplying quality products made for quality materials to meet todays market requirements.

The AUER Collapsible Pallet Bins are available in both 'Solid' and 'Vented' formats across a range of different footprints and capacities. The AUER Pallet Bins are a general purpose injection moulded collapsible pallet bin.

The solid variant is commonly used where the bins are required for general purpose containment of dry goods or if the contents need to be kept isolated from airborne contaminants and used in conjunction with the lid. Vented bins are generally used for produce for greater air circulation in controlled atmosphere environments to reduce the field temperature as quickly as possible.
Being FDA & EU Approved using HDPE Materials, these pallet bins are predominantly utilised in the food manufacturing sector for the harvesting or the processing of meat, poultry, fish, grapes, fruit, vegetable, grain based ingredients into finished product.
By having a safe working load (SWL) of 750 Kg, these bins are suitable for a wider range of applications apart from food manufacturing, as these bins have been placed in warehousing and distribution centres, factories and assembly plants, contract storage and more. The main purpose of these bin is to save on freight costs when the bin is returned to base folded down, or to save on valuable space when they are not in use and in storage.
Bin features include smooth inner surfaces, 4 way entry pallet base, 3 x encapsulated skids, 4 x drainage points in the base where bungs and taps can be fitted. They have a recessed top edge that provides a bin location function when bins are stacked on top of each other with or without the usage of the optional lid. This gives greater stack security when in transit or in storage. Some bins also have the option of Access Doors where the wall height is too high for the average person to gain access to the base of the bin.

These bins are available with 800 x 600mm, 1200 x 800mm, and 1200 x 1000mm footprints.