COPACK Flexible Preform Pouches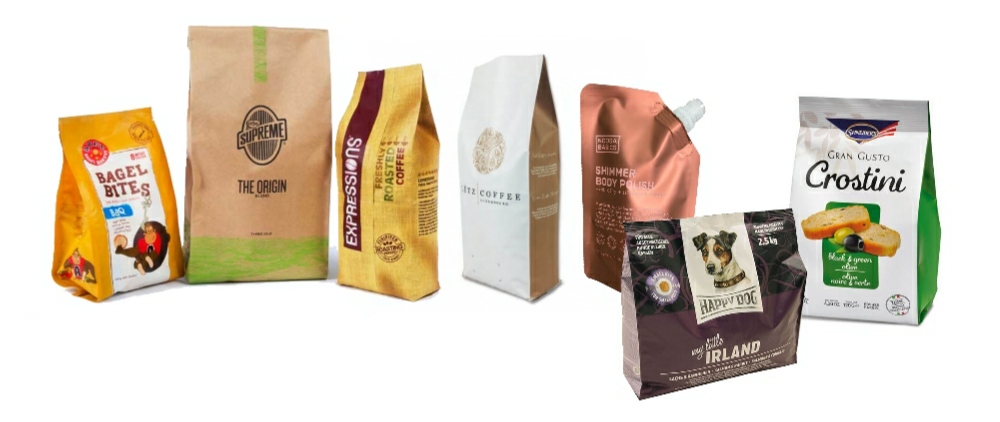 Our production capabilities allow us to convert printed roll fed film into a variety of preformed pouches as shown by some of the examples pictured above.

Preformed pouches continue to grow in popularity with consumers as they are a cost-effective alternative to rigid packaging and offer increased versatility, as well as consumer convenience. Preformed pouches lend themselves to smaller batch sizes, quick changeovers, and most importantly they can provide a great canvas for your brand's marketing.


STAND UP POUCHES



Our capabilities provide the highest quality stand-up pouch based on your product's life cycle, usage and filling process. With our engineering expertise we can provide the unique features your product needs to engage consumers either on a retail, or B 2 B Level.

We stock these in Matt Silver in 0.5, 1, and 2 Kg Sizes which are suitable for dry goods. Matt Black and Matt White are also available on request.

SPOUT POUCHES



Spouted pouches are suitable for many applications, including food and beverage. There are multiple benefits to adding spouts to a preformed pouch, from food safety to convenience we offer a complete solution for your flexible packaging needs.


Sizes range from 150 grams to 10 Kg. Contact us to discuss your own specific requirements.

QUAD STYLE POUCHES




Quad style pouches are cost effective and provide more billboard space for your product. There are four sides to the quad style, allowing for a better presentation on the shelf.

Quad seal bags are one of the most versatile packaging formats you will come across. They are used for food based products such as dry goods, coffee, tea, pet foods through to non food items such as granular fertiliser and BBQ Charcoals.

These can be printed with your artwork in the range between 1 to 8 colours.

3 SIDE SEAL POUCH



We provide 3-side seal pouches for a wide range of markets with materials designed specific to your product's needs.

3-side seal pouches are commonly used for single serve applications ranging from nutritional supplements to instant soups. Including a pre-applied zipper can expand a 3-side seal pouch to support the versatility of a multi-use pouch.
No products found