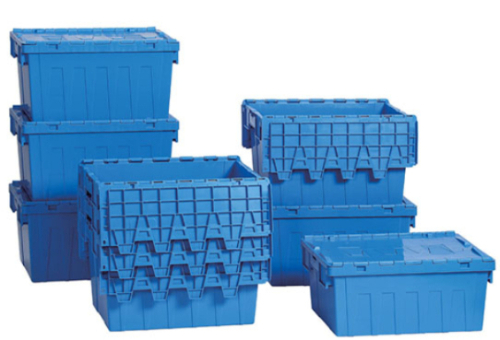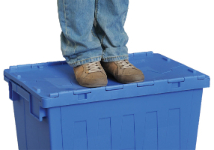 The COPACK Attached Lid Crates are nesting containers that can improve efficiency in all kinds of distribution and storage applications.

These reusable containers securely stack when the lids are closed for saving space when used for storage and in distribution, and then nest when the lids are open giving a freight efficiency of up to 57% for the return trip. Fitted with lockable and hinged lids that prevent the contents from damage and theft, these containers are the best solution for the picking and shipping of products within a closed loop environment like retail distribution, or sending out automotive parts to dealerships to name just a few possible examples of usage.
The Crates are moulded from 100% new polypropylene resin and are able to resist the damaging effects of oils, are impervious to acids and alkaline solutions, and palletise well to 1200 x 1000mm based pallets as offer a modular system of 400 x 300mm and 600 x 400mm options.

COPACK can also provide a collapsible option and these can be seen by viewing the Foldable Tote Box range when equipped with the optional Hinged Lid.
FEATURES:
Ergonomically designed hand grips for comfortable handling

Freely nest when empty and stack securely when full and lids closed

Textured and flat base to increase surface friction and to promote stability when stacking

A logo or company details can be applied onto the container by screen printing or hot foil stamping

Reinforced ribs on sidewalls for increased load capacity and reducing the possibility of sidewall deformity

Heavily reinforced hinges to attach the lids to the container for superior safety and stability

Label areas for the application of self-adhesive barcode labels

Label holder on two short sides for label attachment using option label retainer

Locating lugs on lids to interlock crates when stacking when lids are closed

Reinforced holes for standard security device, cable ties or small padlocks to prevent lids opening in transit as well as to provide an anti-theft system for transporting high value goods from A to B

Optionally manufactured in conductive material against electrostatic discharge (ESD)

Temperature resistant from -10°C to +130°C

Standard colour: Blue