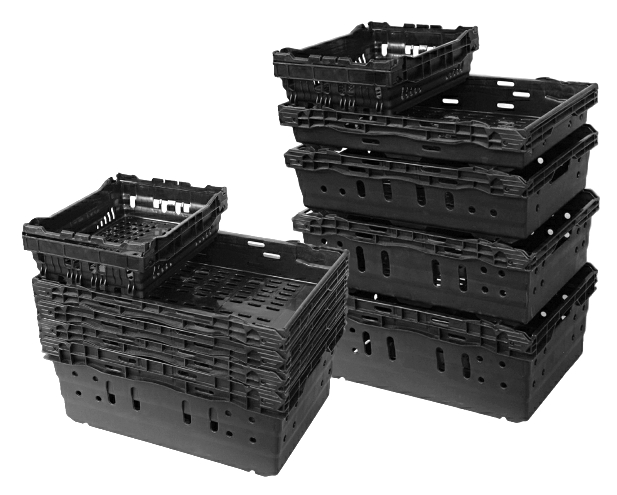 The range of COPACK Swing Bar Produce Crates incorporates the latest in Deep Nest design technologies to provide a nesting height of just 47mm between most crates which equates to a freight saving on average of 35% when nested. We also have a Foldable Produce Crate range that collapse to just 35mm.

These crates are modular being 400 x 300mm and 600 x 400mm in footprint that will fully utilise a standard pallet size of 1200 x 1000mm and will also pack well onto 1000 x 1000mm pallets to be used in refrigerated trucks or containers to keep produce in optimum condition when in transit.

Each crate option has fully vented bases and side walls for enhanced chilled air circulation in a controlled air environment, or by using a hydration process to initially take the field temperature of the produce down as well as to keep it chilled in storage to maintain the freshness of the produce from "paddock to plate".

The smaller and low side wall options are designed for cherries, berries, cherry tomatoes, and small pip fruits where excess loading can cause damage to the fruit. The larger sizes of crates are designed for more resilient varieties of produce with all crates fitted with strong nylon swing bars to take the weight of the crates stacked above.

Swing Bar Crates have also proven popular for use with meat based products and for general food products from the manufacturing areas through to the distribution of finished goods.

COPACK carries the full range in stock in Black, with Green on an indent basis. We also carry in stock the 35 and 47 Litre sizes moulded in a Grey impact resistant Co Polymer Polypropylene with custom colours on offer for 500+ units. These crates can be branded by way of silk screening at time of manufacture or by adding a post mould graphic to identify the crates as belonging to your company.
FEATURES:
Vented base and sidewalls for increased airflow

Smooth internal surfaces and rounded corners for easy cleaning and to minimise damage to soft fruits

Strong nylon swing bars on each crate option that interlock into the base of the crate stacked above for stack security when loaded.

Reinforced ribbed base for smooth transport on roller conveyor and easy handling

Label areas for self-adhesive barcode labels to be applied

Deep nesting design for efficient and economical return of crates to point of origin

Reduced stack heights when empty translates into less storage space required when not in use

Company logo / details can be applied onto the container by screen printing or post mould graphics

Temperature resistant from -10°C to +130°C

Standard colours: Ex stock in Black, with Green on Indent moulded from standard PP. The 35 & 47 Litre Crates are also available in PPCO (If other colours needed, an MOQ ≥ 500pcs may be required)