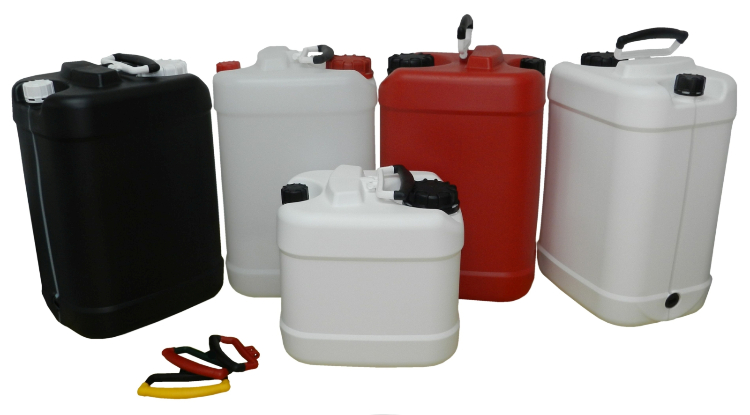 Before we designed the Swing Handled range of Jerry Cans a lot of market research was conducted to ensure that we were offering what the market wanted which has resulted in ESP and COPACK developing a 10 and 20 Litre family with unparalleled features. A 15 Litre option is currently being considered to add to this current range.

Both sizes share the same base dimensions with only the height differing. We incorporated a 70mm Tamper Evident Cap to cater to products with a high viscosity level as well as to comply with UN requirements for the maximum diameter opening permitted for a DG rated Jerry Can. At the rear of the Jerry Cans is a 38mm Tamper Evident Cap complete with O'Ring seal to act as a breather. For customers that need to decant product, a 3/4" BSP thread has been formed on the inner opening under the breather cap. These Jerry Cans feature a Visi-Strip running between the breather cap and the base of the jerry can enabling users to visually check the level of contents.

Swing Handled Jerry Cans offer better pour control of liquids as wrists provide more movement when moved up and down as opposed to side to side as required with Jerry Cans featuring solid "in-line" handles.

The standard handle is a one-piece solid handle that has been ergonomically designed to fit comfortably in the hand when being used. We also offer an over moulded handle that provides a rubberised grip and enable us to incorporate a logo to assit in brand promotion, and to make the finished product stand out from more generic jerry cans occupying the same shelf space as your market competitors.

Our Swing Handled Jerry Cans are our "Premium" line and highly used in the AgChem / HortChem markets and for Animal Health products that are predominantly sold through rural stores and veterinary clinics where the presentation of your product can be the deciding factor on customers purchasing off the shelf.

Contact us to learn more about what we can offer in these Jerry Cans to make your product stand out amongst others.
NZ Made Core Stock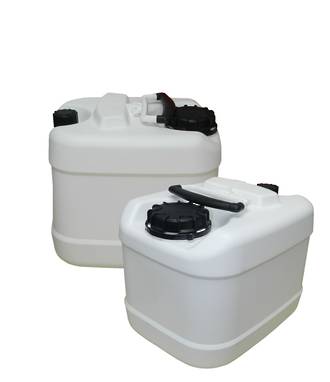 NZ Made Core Stock