710 Litre Atlantic Insulated Pallet Bin
COPACK Atlantic Insulated Fish Tub 710 Litre
Description
The COPACK Atlantic Insulated Fish Tubs are compatible with other bins commonly used in the northern hemisphere, particularly in North America where brands such as Xactic, Saeplast, Promens, and Bonar are widely used. If you currently use these bins then the CIFTA 710 and 1000 Litre Bins will inter-stack with these making for a seamless transition.

These CIFTA Bins will also inter-stack with the CIFT 460 and CIFT 660 Insulated Bins featured on other pages in this category.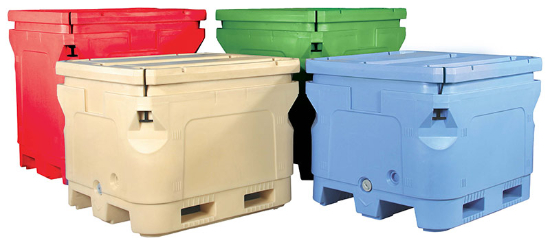 ---
PRODUCT DATA




| | |
| --- | --- |
| MINIMUM ORDER QUANTITY | 1 |
| EXTERNAL DIMENSIONS (with lid fitted) | 1220 x 1085 x 965mm |
| INTERNAL DIMENSIONS | 1105 x 965 x 695mm |
| VOLUME / CAPACITY | 710 Litres |
| LOAD RATING (SWL) | 750 Kg |
| DYNAMIC LOAD RATING | 2 High |
| STATIC LOAD RATING | 8 High |
| FDA APPROVED / FOOD GRADE | YES |
| MATERIAL OF MANUFACTURE | MDPE (Medium Density Polyethylene) & PU Foam |
| PRODUCT STOCK STATUS | Standard colours is Blue which may be available ex stock. Beige and Grey available by INDENT for 10+ units. Other colours available on request. |
CIFTA710
COPACK Insulated Bins
USING THE PRICING MATRIX BELOW

Unit pricing is displayed below once a required quantity of product is entered. The unit pricing will automatically change once a set price break is reached. This is list pricing only and is based on minimum order quantities and initial price breaks. Pricing displayed does not include freight or GST content and Packaging and Handling items may also need to be added. COPACK has in place a minimum order value of $100.00 + GST excluding freight charges.

Higher price breaks, volume based and contract pricing is available through our Customer Services Team. For a full quotation, enter the required quantities below and click on the "ADD TO CART" button and then complete the quotation form when redirected to complete the process.

Pricing is based on current stock on hand, or on last costings. Due to consistently fluctuating Forex rates, raw material costs, and freight increases, the pricing in this website can only be used as a guide. A quotation must be requested if pricing needs to be formalised for 100% accuracy.
Quantity did not reach the minimum order amount of the product.