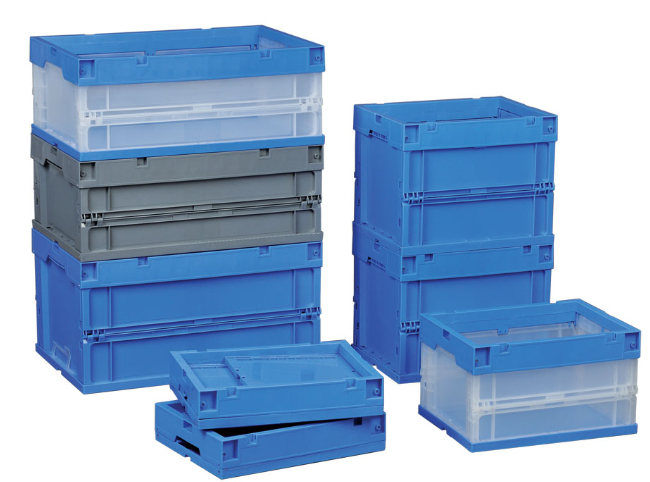 COPACK Foldable Tote Boxes are used in a similar way to the Stackable Tote Boxes but have the added ability to fold down to just 90mm for the return journey.

These containers are strong and lightweight, offer more load capacity, greater freight efficiencies and less costs when used for shipping and when in storage.

Smooth straight sided interior walls provide maximum volume utilisation and they can assemble or collapse very quickly and efficiently when not in use to take up minimum space when stored.

Hinged lids are an optional accessory and are simple to attach which then turns these Tote Boxes into an Attached Lid Crate for additional product security. A simple Drop on Lid from our Stackable Tote Box range can also be used if security is not paramount. The Foldable Tote Boxes are stackable with and without a lid fitted.

These crates are a modular system that can be utilised by dispatching in single quantities or loaded onto a 1200 x 1000mm pallet as have the footprint size of either 400 x 300mm or 600 x 400mm.

The Foldable Tote Boxes and the Stackable Tote Boxes can be used in conjunction with each other as they fully interlock and inter-stack together, with or without lids being used.
FEATURES:
Collapsible and foldable design helps to save up to 57% space

Lightweight

Ergonomic carrying handles designed for easier and safer lifting

Available with hinged lockable lids and label holder as an optional accessories

The customer's logo can be applied onto the container by screen printing or hot foil stamping

Optionally manufactured in conductive material against electrostatic discharge (ESD)

Temperature resistant from -10°C to +130°C

Standard colour: Blue