STRENGTHS AND FEATURES OF "BAG-IN-BOX" COLLAPSIBLE IBC'S
Collapsible IBC's are a large "Bag-in-Box" system are a reusable transport system for the liquid based products. The AUER products consist of a liner bag and a stable, foldable plastic container with a clip-on lid that securely encloses the inner membrane (bladder).

Thanks to its collapsible design, the new type of Intermediate Bulk Container (IBC) offers a significant cost advantage over conventional systems when used in a closed loop environment.The "Bag-in-Box" system provides maximum security and hygiene aspects and when using this system, your company can achieve significant savings on each trip as only the cost of the liner is sustained as a consumable.

The foldable and stackable system will facilitate optimal space usage, both in your warehouse and during logistics. Skids attached to the base body will ensure smooth forklift, and pallet truck handling. The design of these collapsible IBC's is extremely tough while also being very hygienic due to its smooth surfaces and rounded edges, and the use of disposable liners makes cleaning a breeze.

HOW DOES THE "BAG-IN-BOX" SYSTEM WORK?

Users appreciate the Bag-in-Box system because of the ease to fill and empty the contents, combined with the way that they can be stored when empty through to transporting when filled. A disposable liner bag is used in the collapsible container and filled with liquid, and after being used and emptied, the liner bag can then be removed, and the container folded down to await transit back to the point of origin to have a clean lined fitted, and then refilled for another trip.

All "Bag-in-Box" IBC's are sold with securable lids, but the liners are sold separately. The liner bag comes in a standard version that is made from a food-safe material, as well as an aseptic option. The aseptic liners are exposed to gamma radiation and are then packed individually into sterile bags. Aseptic liners are used in such areas as the pharmaceutical industry, or for the purpose of transporting and storing apple juice and wine.
New Indent Product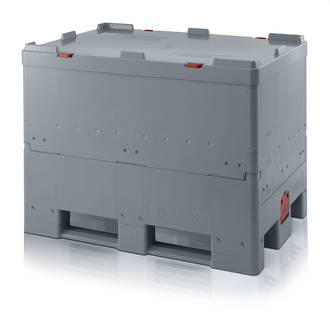 New Indent Product